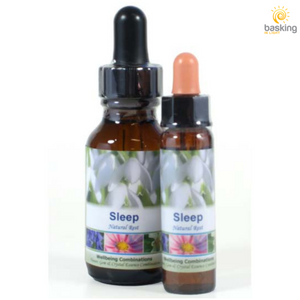 Sleep Natural Rest Essence Drops, 25ml
Regular price $17.00 Sale
To support a natural, restful sleep
Sleep Natural Rest Essence is a combination of six deep acting flower and crystal essences to support a natural, restful sleep. 
Quality, natural sleep is important for all of us, especially during periods of growth and change. Sleep time often brings valuable insights from our higher selves, guides and teachers, and is also important for clearing and balancing our subtle energy systems. 
Contains the following flower and crystal essences:
Forget-me-not, Morning Glory, Passionflower, Soapstone, Quartz Amethyst & Dandelion.
How to Use Sleep Natural Rest Essence Drops
Take four drops on the tongue directly from the bottle between two & four times a day.
Finish the whole bottle then re-check to see if more of that particular combination or another is needed.
We do not recommend taking more than one combination at a time.
Preferably take 10 minutes away from food and drink.
These are all stock level combinations. To gain maximum benefit from your combination we recommend that you take it without further dilution.
Exceptional essences produced by Crystal Herbs UK
Basking In Light's Flower, Gem and Crystal Essences are produced by the renowned Crystal Herbs company in England, members of the British Association of Flower Essence Producers (BAFEP). 
Each essence is:
handmade with love and care

produced with flowers cultivated in Crystal Herbs' own organic garden, or sustainably harvested in the wild away from environmental and energetic pollution (for example, away from powerlines, roads etc.)
contains mother tincture prepared by hand in the depths of nature
preserved in fine organic brandy imported from France
stored, handled and packed with care and attention to energetic principles