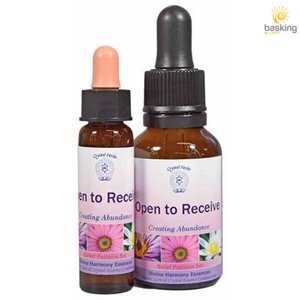 Open to Receive Essence
Regular price $19.00 $15.00 Sale
TO HELP CREATE PROSPERITY CONSCIOUSNESS
At the root of many problems in our world today is the collective belief that there is 'not enough to go round'. At an individual level the belief in 'poverty consciousness' can lead us to experience lack of money, joy, love, friendship, work, spiritual connection etc. in our lives.
From the higher perspective of the soul, true abundance is an integral part of our interconnection with Source and freely available. However many of us carry unconscious patterning that effectively blocks our ability to connect with this all-important Divine flow. Often lack of understanding of our part in the flow means that we are either not open to receive it, or do not understand how to use it and pass it on.
The Open to Receive Essence will help you to clear and transform the old patterning that prevents you from opening your heart chakra to connect with the flow of Divine Abundance in all its forms.
The Open to Receive Essence will:
Dissolve the old patterning of poverty consciousness
Open the heart chakra
Dismantle the barriers preventing oneness with the flow of Universal Abundance
Balances the ability to give and receive
The Open to Receive Essence is a specialised combination of flower, gem and crystal essences of:
Osteospernum, Curcuma, Iceberg Rose, Emerald, Wulfenite & Rhodocrosite
Open to Receive Essence is part of the Divine Harmony range of essences
Divine Harmony Essences a set of forty deep acting essence combinations to help integrate mind, emotions and spirit together.
These powerful essence combinations each focus on a particular issue, pattern or state, and helps to facilitate inner change that is gentle, effective and life enhancing.
Click here to view the entire Divine Harmony range
How to Use Open to Receive Essence
Take four drops on the tongue directly from the bottle between two & four times a day.

Finish the whole bottle then re-check to see if more of that particular combination or another is needed.

We do not recommend taking more than one combination at a time.

Preferably take 10 minutes away from food and drink.

This is a stock level combinations. For maximum benefit we recommend you do not further dilute the essence
EXCEPTIONAL ESSENCES PRODUCED BY CRYSTAL HERBS UK
Basking In Light's Flower, Gem and Crystal Essences are produced by the renowned Crystal Herbs company in England, members of the British Association of Flower Essence Producers (BAFEP).
Each essence is:
handmade with love and care
produced with flowers cultivated in Crystal Herbs' own organic garden, or sustainably harvested in the wild away from environmental and energetic pollution (for example, away from powerlines, roads etc.)
contains mother tincture prepared by hand in the depths of nature
preserved in fine organic brandy imported from France
stored, handled and packed with care and attention to energetic principles