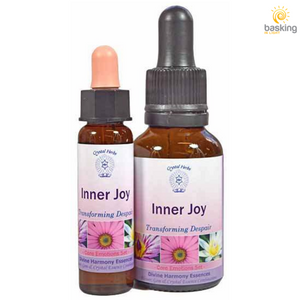 Inner Joy Essence, 25ml
Regular price $19.00 Sale
TRANSFORMS DESPAIR AND HELPS CREATE GREATER JOY AND LIGHT IN YOUR LIFE
When we are unable to connect with our own inner light the emotions of despair and despondency are created.
Deeply traumatic experiences can sometimes result in the choice to close parts of ourselves away. Oftentimes these experiences are buried in previous incarnations, however the feeling of the wound is still there, resulting in feelings of despair and despondency at a deep unconscious level. These feelings can cover many states of mind and emotion, ranging from feeling 'flat' through to feeling a big black hole of despair.
The Inner Joy Essence can help you to unravel and release the deep-seated patterns that contribute to feelings of despair and despondency, allowing you to reconnect with your own innate inner joy.
The Inner Joy Essence helps to create greater joy and light in your life by:
Dissolving feelings of despair and despondency
Helping you reconnect with your own inner light
Promote new inspiration and feelings of hope
Inner Joy Essence is a specialised combination of flower and crystal essences of:
Daffodil, Dill, Quartz Citrine, Jet, Staurolite & Labradorite
Inner Joy Essence is part of the Divine Harmony range of essences
Divine Harmony Essences a set of forty deep acting essence combinations to help integrate mind, emotions and spirit together.
These powerful essence combinations each focus on a particular issue, pattern or state, and helps to facilitate inner change that is gentle, effective and life enhancing.
Click here to view the entire Divine Harmony range
How to Use Inner Joy Essence
Take four drops on the tongue directly from the bottle between two & four times a day.
Finish the whole bottle then re-check to see if more of that particular combination or another is needed.
We do not recommend taking more than one combination at a time.
Preferably take 10 minutes away from food and drink.
This is a stock level combination. For maximum benefit we recommend you do not further dilute the essence
EXCEPTIONAL ESSENCES PRODUCED BY CRYSTAL HERBS UK
Basking In Light's Flower, Gem and Crystal Essences are produced by the renowned Crystal Herbs company in England, members of the British Association of Flower Essence Producers (BAFEP).
Each essence is:
handmade with love and care
produced with flowers cultivated in Crystal Herbs' own organic garden, or sustainably harvested in the wild away from environmental and energetic pollution (for example, away from powerlines, roads etc.)
contains mother tincture prepared by hand in the depths of nature
preserved in fine organic brandy imported from France
stored, handled and packed with care and attention to energetic principles