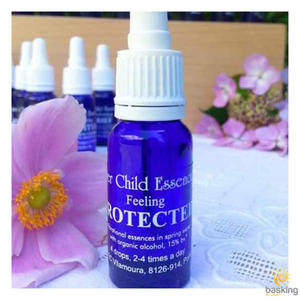 Feeling Protected Essence - Healing the Inner Child, 15ml
Regular price $24.00 Sale
To help you feel more protected and less open to outside influences
Feeling Protected Inner Child Essence will:
help to strengthen and balance the Solar-plexus chakra
Create a shield of protection around the Solar-plexus chakra
help heal residual energy of vulnerability learned from childhood

build up stronger auric field to create a barrier against negative energies or thought patterns 
At those times when we feel utterly vulnerable to both the energies of others and the environment around us, this essence will help us to feel much more protected and less open to outside influences.
This essence is ideal for those with unhealed emotions / memories of childhood trauma that has created a constant sense of vulnerability and need to feel protected.
Feeling Protected Inner Child Essence is also for those who work in healing, or psychics or general 'energy sensitives'. When heightened sensitivity is balanced it allows for working with higher energies safely. 
How to take:
Normal adult dosage is 4 drops on the tongue directly from the bottle between two and four times a day.
This is stock level essence, so to gain maximum benefit from your combination take it directly from the bottle without further dilution
This is a deep acting vibrational essence hence it is best to avoid using it together with any other essences
We recommend you finish the whole bottle before seeing whether more of that particular essence or another is needed.
It is preferably to take at least 10 minutes away from food and drink.
Not recommended for children under 12.
Storage Advice:
It is best to store vibrational medicine in a cool place away from TV's, mobile phones, microwaves, computers etc.
Ingredients:
A combination of flower, gem and crystal essences in spring water and preserved with organic alcohol.
EXCEPTIONAL ESSENCES PRODUCED BY CRYSTAL HERBS UK
Basking In Light's Flower, Gem and Crystal Essences are produced by the renowned Crystal Herbs company in England, members of the British Association of Flower Essence Producers (BAFEP). 
Each essence is:
handmade with love and care

produced with flowers cultivated in Crystal Herbs' own organic garden, or sustainably harvested in the wild away from environmental and energetic pollution (for example, away from powerlines, roads etc.)
contains mother tincture prepared by hand in the depths of nature
preserved in fine organic brandy imported from France
stored, handled and packed with care and attention to energetic principles