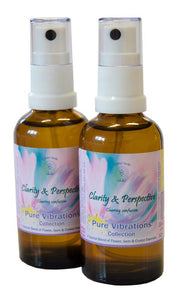 Clarity & Perspective Essence Spray - Pure Vibrations Collection
Regular price $19.00 Sale
The Clarity & Perspective Spray: A breath of fresh air for the mind

Dissolves confused, muddled thinking
Expands perspective
Helps with problem solving
Our Clarity & Protective essence spray is helpful in clearing confused, muddled thinking. It will help bring clarity if you find yourself going round and round in your mind about an issue or situation.
It will quickly relax the mental body allowing 'mental blocks' to dissolve and the mind to expand so that you can connect with the greater clarity and perspective available from your soul and higher mind.
As Albert Einstein so aptly said 'the answer to a problem will never be found at the level at which it was created'.
Specifications:
This combination contains essences of 

Hydrangea, Lemon, Dandelion, Quartz Citrine, Labradorite & Apatite.

Especially effective in spray form because of the immediacy of its actions.
Beautifully yet subtly scented with a wheat alcohol and Rose Water blend.
Packaged in a 50ml glass amber spray bottle.
How to Use Pure Vibrations Essence Sprays
Spray liberally into the auric field for a quick and effective energetic realignment, or use over a period of time to support more permanent transformation. You can also spray directly into mouth if you would prefer.
Click here to see the entire range of Pure Vibration Essence Sprays
EXCEPTIONAL ESSENCES PRODUCED BY CRYSTAL HERBS UK

Basking In Light's Flower, Gem and Crystal Essences are produced by the renowned Crystal Herbs company in England, members of the British Association of Flower Essence Producers (BAFEP). 
Each essence is:
handmade with love and care

produced with flowers cultivated in Crystal Herbs' own organic garden, or sustainably harvested in the wild away from environmental and energetic pollution (for example, away from powerlines, roads etc.)
contains mother tincture prepared by hand in the depths of nature
preserved in fine organic brandy imported from France
stored, handled and packed with care and attention to energetic principles