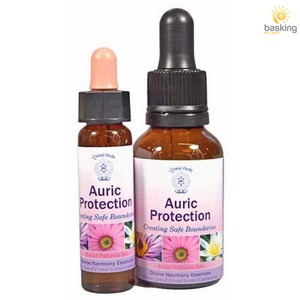 Auric Protection Essence, 25ml
Regular price $19.00 $15.00 Sale
To help strengthen your auric field and decrease over-sensitivity
Weak energetic boundaries creates an unwanted vulnerability to other people's emotions or thoughts, as well as an inability to define one's own energy from others.
This can manifest as feeling of being under attack from other people's thought forms, an inability to know which emotion is actually yours when in emotionally charged situation, feeling energetically drained in crowded situations
The Auric Protection Essence helps to overcome the effects of weak energetic boundaries by:
strengthening the auric field
decreasing energetic over-sensitivity
establishing positive energetic boundaries and then maintaining them
minimising personal energy drain
Auric Protection Essence is a specialised combination of flower and crystal essences of:
Yarrow - Mixed, Pennyroyal, Staurolite, Lodestone, Larimar & Clear Quartz
Auric Protection Essence is part of the Divine Harmony range of essences
Divine Harmony Essences a set of forty deep acting essence combinations to help integrate mind, emotions and spirit together.
These powerful essence combinations each focus on a particular issue, pattern or state, and helps to facilitate inner change that is gentle, effective and life enhancing.
Click here to view the entire Divine Harmony range
How to Use Auric Protection Essence
Take four drops on the tongue directly from the bottle between two & four times a day.

Finish the whole bottle then re-check to see if more of that particular combination or another is needed.

We do not recommend taking more than one combination at a time.

Preferably take 10 minutes away from food and drink.

This is

 a stock level combinations. For maximum benefit we recommend you do not further dilute the essence
EXCEPTIONAL ESSENCES PRODUCED BY CRYSTAL HERBS UK

Basking In Light's Flower, Gem and Crystal Essences are produced by the renowned Crystal Herbs company in England, members of the British Association of Flower Essence Producers (BAFEP). 
Each essence is:
handmade with love and care

produced with flowers cultivated in Crystal Herbs' own organic garden, or sustainably harvested in the wild away from environmental and energetic pollution (for example, away from powerlines, roads etc.)
contains mother tincture prepared by hand in the depths of nature
preserved in fine organic brandy imported from France
stored, handled and packed with care and attention to energetic principles